Wedding Asia Showcased Couture and JewelleryTrends for the upcoming Wedding Season
Marriage is once in a lifetime experience and it is every bride's coveted dream of looking like a princess on her wedding day but choosing a perfect bridaloutfit is also a very tricky task. To helpbrides-to-be in finalising weddingcouture and jewellery, Wedding Asia, inassociation with The Times of India,came out with a spectacular weddingexhibition preview, to showcase the couture and jewellery trends for the upcoming wedding season at Radisson Blu,Ludhiana, on August 16. Theexhibition is currently underway tillAugust 19 at Park Plaza, Ludhiana.
The well-crafted and iconiclatest bridal collections were showcased during this glamorous event. Unique yet flattering,eclectic, colourful andflamboyant display of weddingcostumes and trends swepteveryone's feet off thefloor.Mesmerizing range oflehengas and Indian bridal clothing was thehighlight of the show. The heritage jewellerycollection was also showcased during thisglittering event.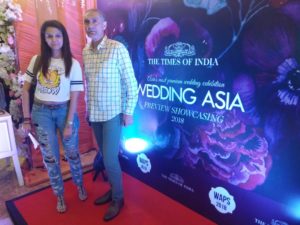 The one-of-its-kindevent showcased thecollections of acedesigners'outfits andjewelers'jewellery collection includingDiamondConstellation. Exclusive gold and diamond jewellerycollections were also showcased during theevent by several jewellery houses.
The show Management and Models Management was done by Mr. JeetBrar, a well-known name in the fashion industry in India who started his modeling career in 1990. 16 models from Mumbai and Delhi including 4 international models rocked the Ramp.
"Wedding Asia is a very old & known property that happens in multiple cities and I am glad to be part of it.It wasn't possible to make this show a successful event without my crew & models. My special thanks to Mr. ManinderSethi, founder, andAnupreetSethi, co-founder, ofWedding Asia, for their faith & valuable support", said JeetBrar.
"Wedding Asia's glamour night wasrocking, thrilling and exhilarating. Thisevent was a dream comes true for everybride and all visitors thoroughly enjoyed theevening. We extend our gratitude to allvisitors and each and every person off andon the stage," said AnupreetSethi, cofounder,Wedding Asia.
CricketerBhupinder Singh was also present on this occasion.Makeup and Hair styling was done by Cleopatra's RichaAggarwal and her team.