The Embassy of Mexico in India searches for Indians who drew these paintings 50 years ago
If these drawings look familiar, you may be wanted by Mexico!
The Embassy of Mexico in New Delhi is on the hunt for a handful of Indian children, now adults, who participated in the "World Children's Painting Festival" organized as part of the cultural activities during the 1968 Olympic Games in Mexico City.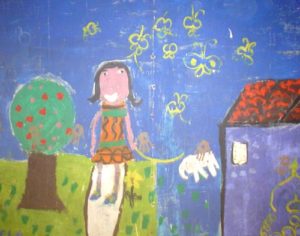 Held in Mexico in October 1968, these were the first Olympic Games to be staged in a Spanish-speaking country. Within its cultural programme, the World Festival of Children's Painting was organized with the theme, "Un Mundo de Amistad" – A World of Friendship. Children from 80 countries contributed to the drawings and murals which went on to be displayed in some of Mexico City's most iconic spots.
The project "A World of Friendship – 50 years later" is preparing an exhibition in Mexico City, to feature the few surviving pieces of the originally 1,800-strong collection. To acknowledge the contribution of those children to the painting festival, the embassies of Mexico worldwide are searching for the participants, who would now be adults.
Of the eight Indian participants, all that is known about them is their name and age. It is likely that the Indian children may have participated through the renowned Shankar's International Children's Art Competition. According to Ms. Yamuna Shankar, General Manager, Children's Book Trust, their founder, Mr. Shankar used to select the best paintings and submit them to international competitions. It is also believed that three Indian students may have travelled to Mexico along with the Indian sports contingent, to paint murals which were placed along the Avenue Paseo de la Reforma in Mexico City, converting the long iconic boulevard into an immense art gallery.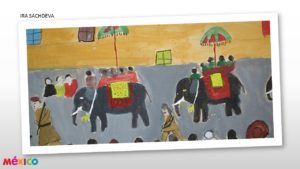 But despite the very limited information available, the Embassy of Mexico in New Delhi was able to track down one participant from Gujarat, with the help of Ahmedabad-based journalist Mr. Ketan Trivedi of Chitralekha magazine. The child participant Jitendra Navnitlal Parikh, aged 15 at the time, was a student of Shree Sayaji High School in Baroda, and his painting entitled "Market", was submitted to the children's painting festival in Mexico. Unfortunately, he passed away in 1998 due to a long illness.
The other Indian participants were Sujata Sharma (aged 14 at the time), New Delhi; Ira Sachdeva (aged 12 at the time), Delhi; Sanat Kundu (aged 13 at the time); Vivek Kuchibhatla (aged 9 at the time); Ela Ems (aged 8 at the time) and Leela Sudakaran, who may have travelled to Mexico to paint murals.
The Embassy of Mexico will present a copy of the framed painting along with a certificate of commendation to the participants to mark the 50th anniversary of the cultural initiative, "A World of Friendship".