Patients who regained lost capability to talk celebrates Independence Day by Singing National Anthem
Basavatarakam Indo American Cancer Hospital & Research Institute has celebrated 72nd Independence Day in its premises.  On this occasion Sri Nandamuri Balakrishna, Chairman, Board of Trustees, Basavatarakam Indo American Cancer Hospital & Research Institute hoisted the National Flag.
As part of these celebrations, probably for the first time in India Patients who underwent Laryngectomy that removes Larynix that removes ability to speak have participated in the program and sung our National Anthem along with other participants.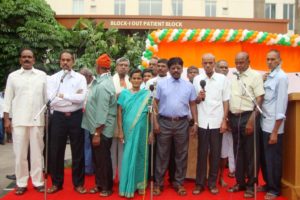 As you are aware that few patients suffering from Head and Neck Cancers, Oncologists are required to perform Laryngectomy that removes larynix making it difficult for them to produce sound leading to their inability to talk.  In order to provide solace to these patients, doctors advise speech theraphy with the help of devises.  This lenghty long drawn process of therapy is provided for patients free of cost at Basavatarakam Indo American Cancer Hospital & Research Institute.
With an intent of bringing the laryngectomy patients into the mainstream and help them to lead an independent, confident and constructive life with self esteem a Self help group for the laryngectomy patients was started in team lead by Dr Chandra Sekhar Rao, Sr Consultant, Head & Neck division of Surgical Oncology Department of Basavatarakam Indo American Cancer Hospital and research institute.
As part of the program, Patients facing the problem has been identified and were invited to be part of this endeavor.  A team consisting of Onco-Surgeons, Speech Therapists, Physicians and other technologists has provided required guidance and set of protocols that needs to be followed and practiced.  Depending upon the requirement, they were further suggested to take assitance of few devises that can be beneficial in bringing back their voice.
As this entire process requires a strong support from family and friends, they were also roped in to be part of the self help group of these patients along with medical, non medical staff.  After undergoing several sessions that involves them to follow various procedures and exercises, we are happy to notice that most of these patients are leading a satisfied life with many of them resuming routine activities including occupational and family responsibilities.  It is also observed that in due course of activity not only patients, their caregivers (family members, friends) immensely benefited from this endeavor.
As team started growing in numbers, old patients were involved as volunteers in the group thus allowing them to guide the new patients through the trauma of cancer detection and treatment.
In order to build confidence and to create further awareness on the benefits of the program, the survivors could not find a better occasion than the Independence Day to showcase their triumph over the disability of speech by performing the national anthem.
It is not easy for larynx cancer survivors to sing, but the patriotic fervor instilled the grit and determination in them to accomplish this feat. Probably, this is the first time in India that so many laryngectomy survivors are singing in unison along with the nation celebrating the occasion of Independence Day and making it memorable.  More than 50 patients from different parts of the country are participating in this unique program.
Speaking on this occasion Dr Chandra Sekhar Rao, Senior Consultant, Head & Neck wing of Surgical Oncology Department, Basavatarakam Indo American Cancer Hospital & Research Institute has explained that the program has been visualized mainly to showcase that through sheer hard work that one can over come any disability and also to give confidence to the people who are forced to remain silent due to loss of their larynx.  He urged those suffering with such disability to take queue from the others thus enabling them also to lead life.  He also appealed to community to take such activity at various places so that more number of patients can benefit and assured that the team BIACH&RI is ready to extend all possible help in doing so.
Earlier addressing the gathering after unfluring the national flag, Sri Nandamuri Balakrishna has asked public to remember the sacrifises rendered by several leaders during freedom struggle.  While remembering the contributions made by telugu people during freedom struglle especially Pingali Venkaiah, who has designed the tri colour flag.  Pointing out that the telugu people have to face one more freedom struggle to free their land from the then Nizam, He also remembered those participated in the second freedom movement.  Finally appreciating the efforts put forward by doctors, staff members of the hospital in doing yemon service to the patients, he thanked all of them towards contributing for the growth of the institution.
Finally Sri Balakrishna has hoped the today's effort by hospital will mark a new beginning of the new era where the society accepts people with disability with the dignity.