Make wearable art with Razia Kunj
Is it for wearing or is it for collecting? It's a question that lingers in your mind once you have a look at the Razia Kunj Arts and Facts jewellery collection.  And that's what designer Razia Kunj had in mind when she started designing jewellery – Make wearable art.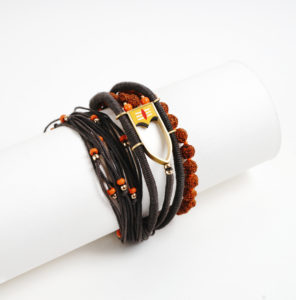 Growing up in Mumbai, Razia was exposed to an enriching culture that is a potpourri of many cultures at an early age and art has always been the beat and pulse of her life. After graduating in Applied Arts from Sophia College, she started designing the success of brands and worked in many advertising agencies as an art director. Having excelled at this art, from creating ads, packaging, logo designs to fashioning the look and feel of the advertising campaigns of many leading brands, Razia and her husband Vinod Kunj set up Thoughtblurb, a 360-degree branding and communication agency. Today Thoughtblurb has many awards and a slew of prestigious clients to its credit.
But the shift in her career was not so sudden. It was over a decade ago, the day before her daughter's Dandiya dance in school. She had forgotten to get the jewellery and couldn't find anything for a six-year-old from her jewellery box. There was some carpentry work going on in her house, she strung together some wooden pieces, painted them,  added some sequins and tada, the jewellery was set. It was then she realized that the small canvas is her cup of tea.
However migrating from the world of ads, films, packaging and logo designs happened much later. An idea that was born a decade ago took shape two years ago when Razia decided to make her mark in the world of art and fashion while her agency was up and running. She decided to bring her sensibilities of art and design into the world of jewelry and fashion. And the brand 'Razia Kunj' was born.
Razia finds inspiration all around her. India is her forever muse, one that will never stop amazing her.  The architecture, geography, folklore, traditions, mythology, art forms…everything that makes India can be found in her designs.  And her mission to shrink the canvas finds success when Lord Krishna plays bhasuri right below your ears or the windows of a Haveli opens to a new world on your chest, as a necklace. Be it her most sought-after collection Theyyam or the recent one, Moksha, each collection is strikingly different from one another yet unmistakably similar in its core, quintessential India.
Here's a checklist of what Razia's jewellery encompasses, invariably walking the line between jewellery and art, with occasional stumbles on to one side or the other: wooden and metal bases; intricate detailing; bright hues that simultaneously evoke everything India.
For her, her jewellery is her personal expression, of her experiences and her life. And more importantly, it serves the purpose of art, to move people.  As Keats puts it, 'a thing of beauty is a joy forever', her creations are a joy to the wearer as well as its spectators.  It looks as good on the wall of an art gallery as it is on you. After all, each design is unique in itself, painstakingly handcrafted and comes to life after months of research and labour of this committed designer and her fellow artists, the craftsmen.