DIM SUM BAO BUN FESTIVAL : Experience Ultimate Pan Asian Adventure
China Bistro Jubilee Hills invites you to join DIM SUM BAO BUN FESTIVAL to experience ultimate Pan Asian Adventure being organised in the month of October. The festival allows one to saviour a mouth-watering combination of traditional Pan Asian Cuisine with modern touch.
It is feast on delicious Dim sums, Bao and Buns with a freshness of ingredients sourced locally.
One can enjoy delicious flavours and combinations which is very subtle and mouth-watering. The Festival provides an opportunity to taste traditional Dim Sums, which in literal term means "A light touch on the heart".
Exclusively available only at China Bistro, the festival is organised during the month of October and November i.e. from 1st October to 30th November during both lunch and dinner.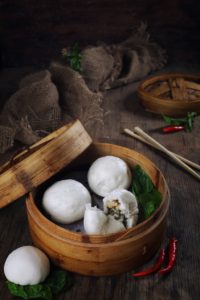 China Bistro has elaborated its menu specially to celebrate this festival and now is ready to sizzle up your appetite. With traditional flavours, aromatic herbs and spices sourced locally will enliven your taste buds like never before.
The Chef's at China Bistro have crafted an interesting special menu for the festival that includes Edamame Dim Sum, Broccoli Tofu with Almond Dim sum, Soya Mock Meat Hunan Bao, Broccoli Cheese Wasabi Bao, Three Treasure Mushroom with Truffle Dim Sum for Veggies and Fish Chili Basil Bao, Prawns Edamame Dim Sum, Chicken Rice Bowl Sizzler, Pan Fried Lamb with Char Siu Dim sum, Prawns Singapore Dim sum, Chicken Char Siu Bao, Lamb Teriyaki Bao, Duck Hoisin Chili Bao for Non Vegetarrians.
To set up the right festive mood the restaurant will be all decorated with the theme as well.
If you've got an appetite, they've got the hottest delicacies to satisfy your gastronomic craving. Head over to relish and rediscover the sumptuous Dim sums and Baos with a pinch of tradition.
Where: China Bistro outlet at Jubilee Hills
What: DIM SUM BAO BUN FESTIVAL
When: Starts on 1st October 2018 to 30th November 2018
Price: Meal for two – Rs 1000/+ taxes