The company that begun itself in Bangalore is now set the stage for showcasing Advaitha for Hyderabad populace.  Advaitha yoga holidays are proud to announce the launch of our holiday program this season in Hyderabad today.
The name Advaitha resonates in our thoughts & beliefs in the power of our soul or Atman. We strongly believe & advocate the journey of connecting with your inner self through Yoga. Yoga as we all know syncs mind, body & soul in a harmonious manner. Yoga is one of the most disciplined forms of exercise. India is the birth place of this practice which is now gone global .Yoga is a name which is omnipresent. People come from around the world to India just to learn this art.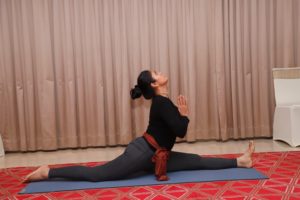 Advaitha have simplified it for our yoga enthusiast from different parts of the world by customising yoga retreat making it more accessible. We at Advaitha are here to give a new perspective to your vacation.  To put it in a nutshell Advaitha is a holiday retreat with a twist. We are making your holidays more purposeful & rejuvenating by incorporating yoga into your vacation.
Advaitha is a brainchild of Kona, Bindu & Rajshekhar. Koneshwari fondly known as Kona is a culinary expert who believes that we are what we eat and a true connoisseur of healthy eating.
Speaking on the occasion, Koneswari, founder of Advaitha Holidays has said that Advaitha was first launched in Bangalore. Surprised by the overwhelming response to the four retreats that have gone by we thought we should spread wings into other metros, she added. Further elaborating on Hyderabad launch she said "It was but inevitable to think about the City of Pearls being our next launch pad for Advaitha. As we all know the mercurial growth of Hyderabad. It is a city where people are well traveled & adept to the concept of yoga..The cosmopolitan feel of this city juxtaposed with some deep rooted culture makes it a perfect haven to launch Advaitha for our second leg."
Later speaking on the occasion, Bindu who is the key partner in the company and also a YOGA trainer said that Advaitha means unique- free from duality. And yes our programs are unique with thought after locations exquisite experience with nature and the best money can buy, she added. Further explaining the benefits of combining the leisure and YOGA Bindu said "Yoga practice has taken over the world because of the unique experience and health benefits it blesses us with.