48Fitness Awarded with the 'Celebrity Gym of Year' at FEA
Bollywood's most preferred, technologically advanced & luxurious fitness club '48 Fitness' has added another feather to its cap. It has been felicitated as the 'Celebrity Gym of the Year'at a high-profile award night at the Fitness Excellence Awards, 2018 held in Delhi. The brand was nominated along with several other high-end and popular gyms& individuals.
48 Fitness is a part of Angel Wellness Private Limited and is situated in the heart of Mumbai. It is known for its world-class amenities and technologically advanced facilities. Besides the various services, this workout club also provides a patented custom-built technology, called FitX that provides a customized workout plan to each member basis their fitness levels.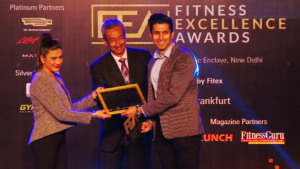 On receiving the award, Mr. Vijay Thakkar, Founder & CEO of 48 Fitness commented, "48 Fitness has been selected because our facilities not only encourage people to make fitness an integral part of their life but we also pay special attention to personal fitness requirements through customized workouts. We focus on constant scientific innovation, and the highest standards of dedication to the cause of fitness along with the responsibility that comes with it while focusing on providing individuals a perfect platform for achieving a fit lifestyle. We are glad that our efforts are being appreciated by our members & several popular faces from Bollywood."
The Fitness Excellence Awards (FEA) is a National platform to recognize and honor the true champions of fitness & wellness industry and brings together the leaders of Fitness, Health, Spa & Wellness industry.